This is a sight you very seldom see in Florida, in fact, it hasn't happened in 28 years. And though there are those who are playing in the sporadic snow and weird cold weather and feeling happy about it, there are some Florida homeowners who are not enjoying themselves at all. They are dealing with busted pipes and other issues affecting their homes because of this brutal weather.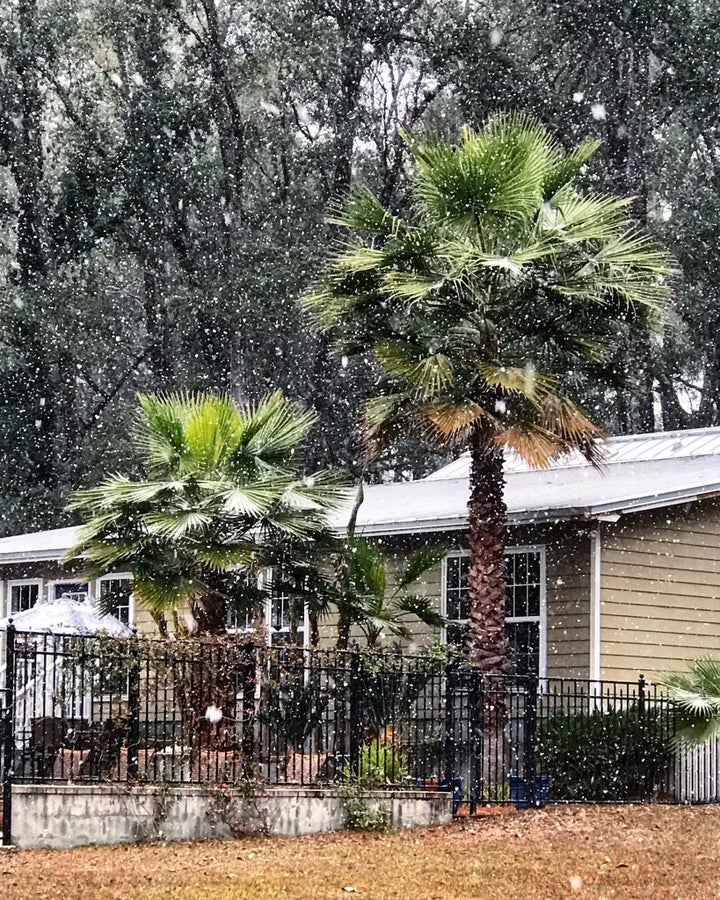 Yes, there are those people in Florida who are having a great time with this weird cold weather. You can find images all over the internet of the fun being had. But if there is no fun involved because you find yourself in the latter category, a homeowner who has a busted pipe due to what Florida pipes are not used to handling, your reality may look much more like this:
No fun! The only good news is that your insurance carrier should pay you for repairs, replacement, and any damages caused to your home due to busted pipes. However, since this is Florida and busted pipes happen so rarely, some insurance companies may balk at your claim. That is where we come in. If you have busted pipes in Florida, save yourself a bunch of headaches and money by calling us right now, Noble Public Adjusters Group, before you even call the plumber and we will come out and give you a free estimate for repairs and damages, contact your insurance company, negotiate your best settlement, and take the load off of you. That's what we are here for, to be your advocate and negotiate the best payout that is possible from your insurance provider.
Tips to Protect Your Pipes
Hopefully, you haven't had a pipe at your home burst yet, or maybe only one so far and you want to know how to protect the unbroken ones. This article from the ECUA and the Pensacola News Journal offers a list of tips to protect your pipes. A few of those include wrapping pipes, especially those exposed directly to the elements in insulation. This material is available at any major hardware store, such as Home Depot or lows. Another tip is to cover outside faucets and hoses, or even better, bring your water hoses into your garage. One for sure tip that northerners know intimately is letting faucets drip overnight to avoid freezing.
Other Issues Severe Cold Weather Brings to Florida
WILDLIFE–One big issue that concerns us is that this extreme and rare cold weather-even though this has nothing to do with being a homeowner–is that Florida wildlife will be so adversely affected. The animals in this tropic environment have no defenses against extreme cold. Wildlife conservationists are busy trying to save the manatees and sea turtles, and they warn boaters to avoid these animals that are grouped together. They are simply trying to keep warm. Don't disturb them.
POWER OUTAGES–Many Florida residents may have already or will experience power outages due to this extremely cold weather. Florida power lines are designed to weather heavy rain, but no so much snow and ice. There is really not a lot of preventive measures you can take when it comes to power outages except to make sure you have alternative heat sources and plenty of water and non-perishable food handy.
ICE DAMS–We bet you never thought you'd read ice dams and Florida in the same sentence, did you? Neither did we. But if it continues to snow, which predictions for the biggest BOMB CYCLONE of cold weather in 100 years, snow is very well predictable. When snow accumulates on your roof, it can form a dam and cause damage to your roof. Be sure to keep snow shoveled off your roof as a preventative measure. This weather is predicted to continue for a bit, so make sure you are handling snow accumulation in a proactive manner to prevent ice dams.
The team at Noble Public Adjusters Group hopes these tips have helped you just a little bit when it comes to handling this weird cold weather in Florida. If you have busted pipes or other issues related to your home that will require filing an insurance claim, don't hesitate to contact us first. We are the handlers!
(850) 249-6972