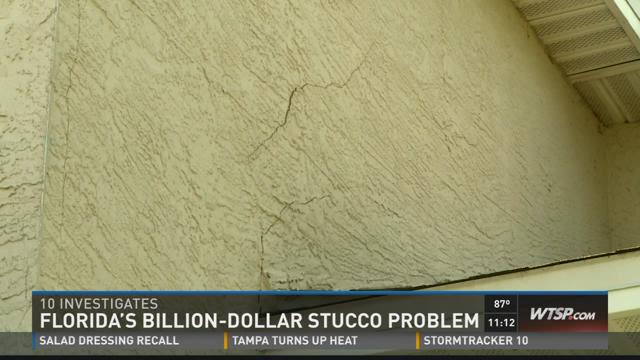 One of Noble Public Adjusting Group's pet peeves when it comes to homeowner claims is anything having to do with stucco. What many Florida homeowners don't realize is that if you have stucco on your home, you instantly qualify as a homeowner with a problem.
As you can see in the image above, Florida has a massive problem with stucco. The reason for this is the shoddy workmanship prevalent during our big building boom (circa 2005-2010) when stucco was considered an afterthought by many builders. "It appears that often the stucco installation was not directly-supervised and controlled by a licensed contractor," said professional engineer Thomas Miller with Structural Engineering and Inspections, Inc. "(Homebuilders) were relying on the subcontractors to install (stucco) without the supervision."
Because all building materials expand and contract, especially in a hot, humid environment like Florida, proper care needs to be used when installing stucco, a cement-like material layered on like paint. But when proper expansion joints and procedures aren't used, stucco will expand at different rates than the wood underneath it, leading to cracking.
As the title of this blog post states, Noble Public Adjusting Group was able to get an insurance settlement for a Florida homeowner that we are very proud of. But don't let the title of this post mislead you. This settlement is one for the record books because the insurance company originally offered the homeowner a ridiculous settlement amount of $11.700! Noble went to bat for the homeowner and they ended up getting a total settlement of $600,000, of which $300,000 involved the stucco problem alone.
Let us explain why we were able to get such a huge settlement for the homeowner, and why half of it was just about stucco. As you read above, the problem with Florida homes started back during the big building boom we experienced during the mid to late 2000s. In a nutshell, stucco used in the building of homes in Floria was never installed correctly in the first place. What that means in the present day is that once a homeowner sees the stucco begin to crack, which it always will with an improper installation, they MUST have a public adjuster to go to bat against their insurance company. WHY? Because what your insurance company will neglect to tell you is that there is no way to match the stucco you originally had. Since matching is covered under your insurance policy as a requirement of bringing your home back to its indemnified condition, your insurance company just basically bought you a new home!
Read Florida Statute 626.9744, subsection 2 from the website of the Florida Legislature. We have included it below:
Florida Statute 626.9744
Subsection (2) When a loss requires replacement of items and the replaced items do not match in quality, color, or size, the insurer shall make reasonable repairs or replacement of items in adjoining areas. In determining the extent of the repairs or replacement of items in adjoining areas, the insurer may consider the cost of repairing or replacing the undamaged portions of the property, the degree of uniformity that can be achieved without such cost, the remaining useful life of the undamaged portion, and other relevant factors.
Bingo! As you can see, matching is a crucial part of making sure your home is returned to its pre-loss condition. And that not only applies to a stucco issue, but to anything else having to do with a homeowner's insurance claim. We will get into that in another blog post, but basically, let's just say, as an example, that you own a hotel in Florida where all the carpet, curtains, lamps, furniture, etc, match and a fire wipes out your hotel. Your insurance policy provides that everything should go back to its original state before the loss. In other words, everything will have to match. So if your hotel room inventory was vintage, which matches will be impossible to find, you will end up with all new, matching stuff.
It is really not that complicated, once you break it down and think outside the box. That is what Noble Public Adjusting Group is so well known for. We find a way to make sure you get the best settlement possible from your insurance company when you experience a loss.
Call us today if you want to discuss this blog post about stucco, or matching, or anything else you might have on your mind. We love hearing from our blog readers. If you are ready to have us file your insurance claim, call us about that too. Noble's home office is in Panama City Beach, but we cover all of Florida and have offices also in Dallas and Atlanta. However, as the #1 insurance appraiser in the nation, Noble can handle an insurance claim anywhere in the US.
Noble Public Adjusting Group 
107 Amar Place Suite 103
Panama City Beach (West End), FL 32413
(850) 249-MY-PA